Announcements
Dr. Donata Vercelli is elected first female secretary general of the International Allergy Collegium (November 7, 2018)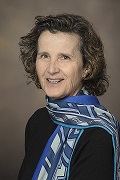 Donata Vercelli, MD, Professor of Cellular and Molecular Medicine at the UA College of Medicine and Associate Director of the Asthma and Airway Disease Research Center at the University of Arizona Health Sciences, has been elected the first female secretary general of the Collegium Internationale Allergologicum. 
Founded in 1954, the Collegium is a group of distinguished international physicians and scientists who study the emerging field of allergy and clinical immunology.  Dr. Vercelli has been a member of the Collegium for more than 25 years. As the organization's new secretary general, she eventually will advance to the position of president after serving as the organization's Vice President.  Dr. Vercelli officially was inducted into her leadership position in early October at the Collegium's 32nd symposium in Mallorca, Spain.
Dr. Balazs Kiss publishes in PNAS (October 19, 2018)
Balazs Kiss, PhD – a CMM postdoctoral scholar in Dr. Henk Granzier's lab - and colleagures recently published a study in Proceedings of the National Academy of Sciences (PNAS) about the role of nebulin, a giant sarcomeric, actin-binding protein found in skeletal muscle.  Using X-ray diffraction, it was found that thin filaments are threefold more extensible in nebulin-knockout living muscle. Kiss and colleagues conclude that loss of nebulin's physiological function impairs other thin filament regulatory proteins and interferes with force generation - therefore, nebulin acts to stiffen thin filaments and is responsible for generating physiological levels of force.
Dr. Sara Parker publishes in eNeuro (October 3, 2018)
Sara Parker, PhD – a CMM postdoctoral scholar in Dr. Gus Mouneimne's lab - together with colleagues in the departments of Neuroscience, Pharmacology, an Immunobiology have recently published a new study in the journal eNeuro entitled "High Fidelity Cryopreservation and Recovery of Primary Rodent Cortical Neurons".  Cryopreservation is the process of freezing biological materials, and is used routinely for the storage of cell lines. Certain cells, however, are extremely sensitive to cryostorage, and cannot be frozen such as primary neurons isolated from mouse or rat embryos, which show extremely poor viability when subjected to standard cryopreservation methodologies. Dr. Parker and colleagues, experimenting with a specialty cryopreservation reagent designed for clinical-grade storage of human stem and primary cells, found that this reagent substantially improved the viability of cryopreserved neurons, yielding cells that were indistinguishable from freshly dissected neurons. This experimental tool not only improves efficiency and maximizes utilization of animal-sourced materials, it also facilitates greater collaboration between laboratories.
Dr. Darren Cusanovich publishes in Cell (August 2, 2018)
Darren Cusanovich, PhD, led a study published in the most recent issue of Cell presenting a single-cell atlas of chromatin (how the genome is packaged in the nucleus of a cell) patterns in adult mice based on data from almost 100,000 individual cells. Their work sheds light on how the various cell types present in mammals are able to accomplish such different functions while referencing the same genome. This resource may ultimately help us to understand precisely how human diseases develop and manifest in complex tissues.
Dr. Marco Padilla-Rodriguez publishes in Nature Communications (August 1, 2018)
Marco Padilla-Rodriguez, PhD – a recent CMM graduate from Dr. Gus Mouneimne's lab- and colleagues have recently published a new study in Nature Communications highlighting estrogen's dual effects of promoting tumor growth in estrogen receptor-positive (ER+) breast cancer, and suppressing tumor invasion through actin cytoskeletal remodeling.
Dr. Diana Darnell promoted to full Professor (July 2, 2018)
Congratulations to CMM's own Diana Darnell, PhD for her promotion to full Professor, Educator Scholar Track! 
Upcoming Events
GPMM Student Seminar - Farah Bughio, PhD Student
MRB 102
GPMM Student Seminar - Alice Solomon, PhD Student
MRB 102
GPMM Student Seminar - Rhye Kanassatega, PhD Student
MRB 102
GPMM Student Seminar - Austin Conklin, PhD Student
MRB 102
Spotlight